I've been planning and creating this outdoor themed owl nursery for my baby boy for over a year (since before he was born, he just turned 1). It's been coming together piece by piece as I find inspiration. My husband and I made this tree bookshelf to display picture books and owl trinkets. I love picking books off of it at bedtime and looking at it while I rock him to sleep.
A Quick How To:
We measured our wall then picked out boards at Home Depot. My husband cut them to size, cut notches in them to fit together at the trunk. Then we sanded all the surface and edges and rounded the ends. I stained them to match our dark wood furniture. My husband hung the boards on the wall with brackets screwed under each branch.
Pinspiration:
I was inspired to design this when I saw the first bookshelf below on
Pinterest
. It says it was originally found on ETSY but the posting is gone so I'm not sure who to give credit to. I wanted our shelf to be more tree-like and I wanted the bottom shelf to be too high up to climb on (I'm not sure how long that will last).
Owl Nursery:
I have a whole
pin-board of owl nursery ideas
on Pinterest. Come check it out for more ideas. Also inspired by
Pinterest
, I created a
branch window valance, hanging basket mobile and bird house
with a book for a roof.
*Pinterest
use is by invitation only so if you still need an invite, contact me by email (right column button).
Young House Love
is having a
Pinterest Challenge
. Check out all the
fun projects
people have made as they are inspired by what they see on Pinterest.
Here are some other views of the nursery. Click here for close-up details and
Before and After pictures
.
Notes: My favorite Lazy-Boy recliner that I got for $50 from our neighbor. It is big, but so much comfier than the hard glider I used for my older children. The $10 retro wood dresser I found last month at a thrift store. The twigs (in a frame I found at a garage sale), the tree branch window valance (I cut from my yard and strung matching fabric leaves from). The brown curtains are chocolate color with a texture that looks like a tree trunk, found at Wal-mart.
Notes: The crib I found on sale at Target in 2010. I got the vintage desk for $25 at a thrift store. I'm using it as a changing table and diaper station for now but it will be a great desk for our son as he grows. The grapevine wreath from Joanne's is around an owl birthday card I found at the post office. The clock I found for $1 at a thrift store and added matching fabric. The macrame owl (I grew up with one of these) I found for 75 cents at a thrift store (I take it off the hook and let him play with it during changing time). The bird basket I bought at Tai Pan Trading (with a gift card I won at Bunco) and attached the fake vine and real pinecones I found at our park. I spin it with my hand once when I start changing his diaper then it twists back and forth.
BOOK CORNER:
The big stuffed owl is in a nest. He flaps his wings and sings "Summertime, Summertime Sum-Sum Summertime" and is my son's favorite toy right now. The little stand is an old hutch from a desk. It fit my 3 book baskets perfectly.
Here are some of our favorite board books on the tree shelf.
Owl Babies: Martin Warrdell
Wow! Said the Owl
Nesting doll owls (I hand painted), bird house and candle (from Esty, see below)
Good Night, Gorilla
The Very Hungry Caterpillar by Eric Carle
The Runaway Bunny
Peek-A Who?
Bear Snores On by Karma Wilson
Guess How Much I Love You Board Book
Good-Night, Owl! by Pat Hutchins
I saw this
flameless candle
(that smells like vanilla and has a timer) in Darcy's
nursery at Just a Night Owl
. Darcy's sister sells them in her
IKR Designs ETSY shop
. It is one of my favorite things in our owl nursery. The colors and design were perfect, it is safe and my baby loves to watch it glow.
My BIGGEST inspiration, my owl baby!
Enjoying his nesting owls.
Great OWL BOOKS: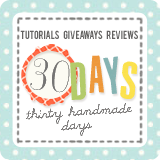 And Today's Creative,
Get Your Craft On Tuesday